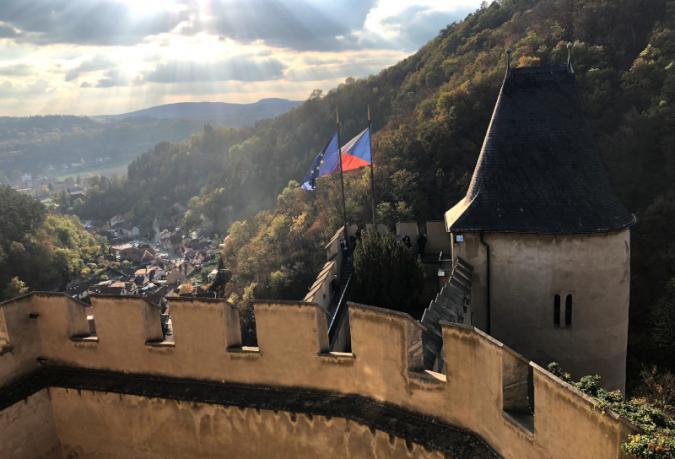 Would not it be a shame to see in Prague only the city centre full of tourists? What would you expect around in the countryside? Yes, you are right! Less people in small villages, nice nature, easy trails around the river Berounka with fishermen standing on the river banks.
But, let's start from the beginning. You have to leave the city centre. So you go through Old Town Square, National Theatre and Dancing House on the Vltava quay heading to Vysehrad. It is a historical fort with Basilica of St. Peter and St. Paul and national cemetery called Slavin where are most famous Czechs buried. Among them are composers Bedrich Smetana and Antonin Dvorak, writer Karel Capek and painter Alfons Mucha. 
We continue south and will cross the Vltava and Berounka river on the Radotinsky most, which is with its 2 300 metres the longest bridge in Bohemia. From here starts a very nice part of the tour. The trail along the river is so nice with fishermen waiting for their catch of the day, joggers, other cyclists and inliners. We ride through Cernosice to Dobrichovice where we stop for the lunch in a nice pizzeria. The prices are very reasonable and much lower than in Prague centre. And the beer is also delicious. 
Then we go to Revnice, Zadni Treban and Hlasna Treban to Karlstejn village. Here we lock the bikes and walk up the castle. The castle was built in 1348 by emperor Charles IV. and served as a place for safekeeping the Czech crown jewels, holy relics and other royal treasures. The castle is really worth seeing, so you may see many historic rooms with the best Holy Cross Chapel with 129 paintings of saints by Master Theodoric. 
After visiting the courtyards with nice view on the Berounka valley, we go back to bikes and slowly drive to the railway station. From here go trains to Prague every 30 minutes, so we are in 45 minutes back in Prague. During the way we share nice experiences from the tour and show pictures to others. 
The sunny weather made the tour so special and also the guide provided so interesting information not only about the history but also about everyday life of local people. We really enjoyed the trip so much and we also know much more about the Czech people. Thank you and definitely see you soon on another tour!