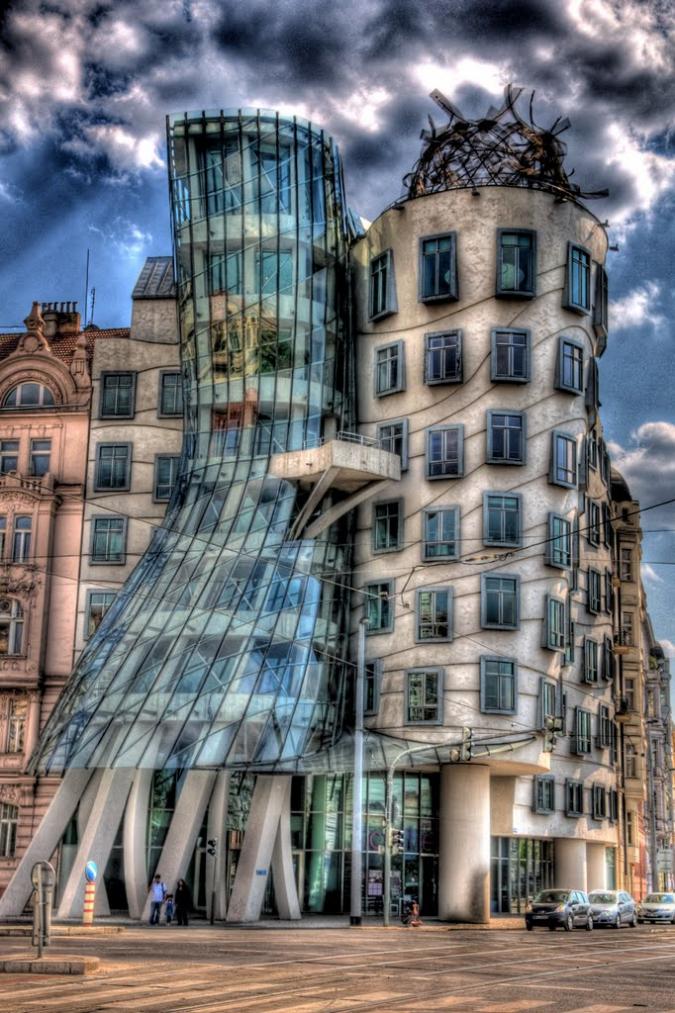 It is my first time in Prague and I want to experience something special. Not like other tourists - walking from one square to another church and to different park, listening to many dates from the history and having pretty mass in my head. Let's do something else!
While walking through the city I passed by a Praha Bike office and got in. A nice guy was talking with me for a while and I decided to come next day for a bike city tour. That is quite a crazy decision but we will see. Do not judge before trying it!
In the morning I returned to the office with some other tourists, we got bikes and started a city tour. Mountain bikes were in an excellent shape, all well working without any problems. Afer a few welcome words we started to ride to the first sight. "Keep on the right! Do not drive so fast! Watch for cars and pedestrians!" Take it easy, buddy, it is not my first time in saddle...
Our first stop was by a gothic Powder Tower, the last remain of the Old Town fortification. On the place where used to be a royal palace in 15th century is now a Municipal House from Art Nouveau style where is a nice restaurant and musical hall for classic concerts. It is a place where on Oct 28, 1918 was proclaimed independent Czechoslovak Republic.
We continue through the Old Town around cubist house called Black Madonna and stop by the Estates Theatre from classicist style where was firstly perfomed Mozart's opera Don Giovanni in 1787. Across the street is the Charles University, first one north of the Alps, founded by the emperor Charles IV in 1348. Nowadays, the best university in the Czech Republic where study more than 50 000 students from all over the world on 17 faculties.
Our next stop is on Bethlehem Square where is standing gothic Bethlehem Chapel where was preaching Czech reformer Jan Hus (100 years before Martin Luther), later burned an the stake for heresy in Constance, Gemany in 1415.
Now we will go around the Vltava/Moldova river to the National Theatre which has an interesting history. It was finished in neorenaissance style in 1881 and had a grand opening with opera Libuse by famous Czech composer Bedrich Smetana for the to honour the visit of Crown Prince Rudolf of Austria. However, two months later burnt and had to be reconstructed again. The Czech nation made a large collection and in a short time collected money for the new theatre which was reopened two years later again with opera Libuse.
Now we will see a modern building called Dancing House or Fred and Ginger after the dancing couple in a Fellini's movie. It was in 1996 in deconstructivism style by architects Milunic and Gehry. From here we will cross the river to Lesser Town and continue on the other bank of the river back to the centre. Here will be a refreshment stop for famous Czech beer Pilsner Urquell. You have to try it - really incredible taste! We bike around Babies, statues by David Cerny, Czech controvesial sculptor. Here are only three. More you may see on Zizkov TV Tower. If you want to keep memory in Prague, you can on the Lennon Wall which is since the 1980s ready for grafitti of any kind. Or you may leave a lock on the bridge by the Wall to secure your love.
But hurry or you miss the Charles Bridge, the best baroque gallery with 30 statues on both sides. The emperor Charles IV liked numerology and set the foundation stone of the bridge in 1357 on 9th 7 (July) at 5:31 AM. To connect the stones they used mortar with eggs.
We wil have another stop in front of Franz Kafka Museum where you will see next sculpture of David Cerny - Peeing Statues to the fountain of the shape of the Czech Republic. We cross the river to Jan Palach Square with Rudolfinum building. Jan Palach committed self-immolation as a political protest against the end of the Prague Spring resulting from the 1968 invasion of Czechoslovakia by the Warsaw Pact armies. It happened in front of the National Museum on Wenceslas Square but here is Phylosophical faculty of the Charles University where he was a 20 years old student of history and political economy. Rudolfinum is now a concert hall with the best acoustics in Prague and worth visiting for classical music concerts.
On this part of the river is a Jewish quarter called Josefov after Josef II who emancipated the Jews. Now you may see several synagogues and a cemetery with 12 000 tombstones with famous Rabbi Low.
Our last stop is on Old Town Square with Astronomical clock, first installed in 1410, making it the third-oldest astronomical clock in the world and the oldest one still working. It strikes every hour and does not show only the date but also the position of sun and moon, moon phases and zodiac. Next medieval building on the square is Virgin Mary Church which is behind the first line of houses. In the middle of the square you will see the statue of Jan Hus. We already saw his preaching chaple before.
This is the end of the tour, we return back to the office, say thank you for excellent knowledge of the city and history and order tour to Prague Castle for tomorrow...