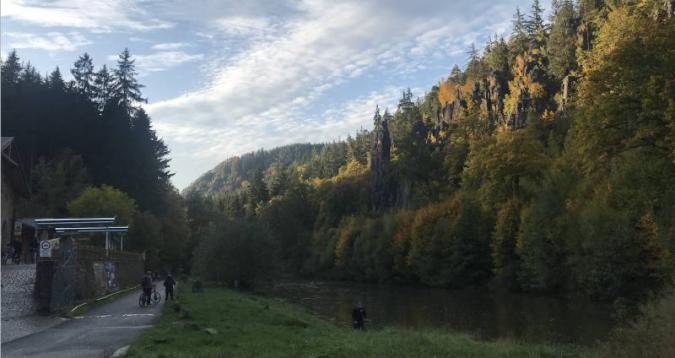 For the Autumn edition of Cyklus Trails' "Hezky Den," we wanted to check out part of the Euro Velo 4 - Ohre River Valley from Cheb to Karlovy Vary. The entire trail extends from northern France all the way across Central Europe to Kiev!
Here is our day itinerary for our trip from Cheb to Karlovy Vary:
- Train from Prague Main train station (Hlavni Nadrazi) to Cheb. 
*Tip* If travelling with a bike buy the earliest possible train, it will be less crowded and will give you more time to bike!*
- We took the 6:45am train from Prague arriving in Cheb at 9:26am.
Using the free Mapy.cz App - you can find the route of our trip here (about 60km)
https://en.mapy.cz/s/karogesovu
The route is absolutely beautiful with the first half of the ride on high quality paved bike paths.  
After Sokolov, it becomes even more scenic entering the forest along the Ohre River. A perfect lunch break is at Loket (meaning "Elbow"). The castle, perched high on the center of the village was officially settled in the early 1200s and served as a strategic defense point for the Czech Kingdom. We stopped for lunch at the "Old Slavic Cuisine" restaurant. Excellent trout, with potatoes and grilled veggies along with half-liter of local beer - Karlovarské pivo Starý hrad" světlé 
From Loket - the path becomes really interesting, we recommend taking hybrid-trekking bikes because the path is no longer paved and consists of dirt and off-road. In the autumn it is stunning, before reaching Karlovy Vary we pass the legendary Svatoš Rocks, frequented by many rock-climbers and travelers who are just stopping by for a cold beer in the romantic valley. You can stop at "Restaurant Jan Svatos" where you can sit outside have a coffe, beer or soup and admire the natural beauty by the river. 
From Svatos rocks it is about 10km of winding bike paths to the beautiful spa town, found by King Charles IV and later a favorite of Russian Tsar Peter I. A Russian influence which still can be felt today, with officially more than 3,000 Russian inhabitants. It is also home to the international Karlovy Vary Film Festival, Becherovka distillery, Mattoni mineral water and hundreds of kilometers of hiking trails through the Slavkovsky les forests stretching all the way South to Marianske Lazne.
If you're interested in planning a trip around Karlovy Vary, don't hestitate to reach out to us!